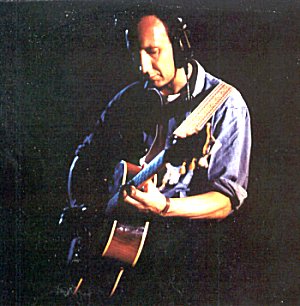 'Guitar smashing, amp trashing, arms flailing, English songwriter famous for anthemic tunes and bittersweet ballads. Composer of Rock Opera's, film soundtracks and theatrical musical pieces. A spokesman for his generation'.
If this definition were to be given in a famous U.S quiz show the answer to it would undoubtedly be, "Who Is Pete Townshend?" Pete Townshend, the driving force behind The Who, is a man synonymous with all of the above and much, much more. Above all though, behind all the headline grabbing theatrics, he is a storyteller.
He has also released the third volume of the highly successful Scoop series 'Scoop 3', available exclusively through www.eelpie.com. A compilation album of songs from the first three Scoops 'Scooped' was released in May 2002. The Pete Townshend 'signature' series of live solo shows also expanded further with the release of his 'Psychoderelict' show from the Brooklyn Academy of Music. Next up for the 'signature' treatment is his 1985 show with Deep End at the Brixton Academy.
Over the past few years' filmmakers have seen the worth of Pete Townshend's songwriting. These days the soundtrack to a movie is as important as the film itself and Townshend's special qualities have recently been utilised in 'Jerry Maguire', 'Apollo 13', 'Fever Pitch', 'Bugs', 'Rushmore', and 'Austin Powers - The Spy Who Shagged Me', amongst others. TV advertisers and serial producers have also been quick to see the value of using his work; 'My Generation', 'Magic Bus', 'Who Are You', 'You Better You Bet', 'Baba O'Riley', 'Won't Get Fooled Again' and 'Eminence Front' are among the titles that have been used.
Thirty-five years ago he was described as the 'spokesman for his generation' - that's not true. Pete Townshend is a spokesman for every generation. The sentiments in his songs are as vital today as they were 30, 20 or 10 years ago, and they will remain so. Nobody puts our thoughts - fears and joy, so eloquently into song as he does.