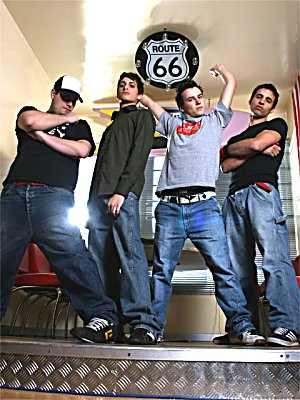 The New Story is the brand new name of N.Flunders, one of the top Italian pop punk rock bands.
After a 5 year career, with two self releases, an official full length ("Honeymoon On The Moon", Le Parc Music, 2003), gigs and tours all over Europe sharing the stage with the best acts, the band is born again under a new name and a new way of making music.
The New Story, with the debut album "Untold Stories", becomes the perfect mix between rock rhythms, pop melodies and emotions, plus a great punk rock energy.
The influences are taken from bands like Sum41, Autopilot Off, The Ataris, Jimmy Eat World, Hoobastank, Midtown, Dont Look Down, New Found Glory and Foo Fighters, surely some of the best artists in the rock scene during the last years.
The full length CD was recorded in two sessions (March 2005 and September 2005) at Hate Recording Studio in Vicenza and then mastered in November 2005 at New Sin Studio in Treviso. Both studios are very well known in the rock scene in Italy.
The EP "Denise", self released in April 2005 in Italy, still under the name of N.Flunders, was sold out in a few months, so expect "Untold Stories" to have a lot of success in a very short time. The videos of the songs "Blind" and "Streetlights" were shot by one of the best young Italian directors, Stefano Bertelli, who worked with some of the coolest artists in the country.
The New Story live shows are full of energy and extremely involving so be sure they will totally blow you away! "Untold Stories" will be out in Italy on Freshman Records (distributed by Ammonia Records / Edel) on April 21st, 2006 and it will be sold online worldwide.
Then it will be released on May 10th in Japan by the top indie label Kick Rock Music in a special Japanese version.
More countries releases are still coming: so keep yourself ready!
(foto e bio tratte dal sito ufficiale)