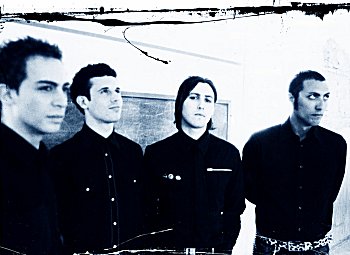 Beginning with the band in 1999, Francesco Grasso (vocals, guitars) and Alessandro Mita (guitars) rehearsed with a series of crews before deciding to assemble their own squad. It was still in 2000 that the band recorded their first 6 tracks promo, with the monicker "Black Thorns Lodge". This "Promo 2000" was trying to interpret different influences raging from gothic and Swedish metal to '80s pop and wave. "Promo 2000" allowed Francesco and Alessandro to gain them the attention of both audience and critics (demo of the month on Psycho! magazine and best Italian young band before bands like Lacuna Coil and Linea77). Instantly, the cult label My Kingdom Music showed his interest in having this newborn creature on his roster.
But Alessandro and Francesco didn't feel satisfied with what Black Thorns Lodge was becoming. They needed to evolve. So, at the end of 2001, they decided to let the Black Thorns Lodge die, and to restart a new adventure with the new monicker ROOM WITH A VIEW. "The change of our monicker had the symbolic meaning of a rebirth for us", Francesco says. "When we were still BTL, we felt that the music we played and our monicker were not so personal as we wanted them to be. We needed to escape from cliches, to open ourselves on new and stimulating horizons... "Room with a View", that's it. I like to think about a dynamic view, a sort of emotional kaleidoscope". My Kingdom Music had the insight to realize the potential this band held, and the guys were quickly signed and put in the studio to record their debut album, "First Year Departure". Recorded during 2002, and released in 2003, "First Year Departure", with its passionate mood, its vintage soundscapes and its retro-futuristic spirit, has gathered not only an instant fan base, but critical acclaim on the main international magazines and webzines. The drums parts for this record were handled by Fabio Cappabianca, coming from the Roman Hardcore scene. "Most of the stuff on our debut album has been composed in very short time, like an irrational and raving stream of consciousness", Alessandro says. "It's a journey of imbalance into the daydreaming minds of four melancholic young men", Francesco adds. "In "First Year Departure" there's a deep sense of uneasiness. But it's life itself that's uneasy: behind the joy of a discovery there's always the bitterness of parting".
Since the album release, the band didn't stop for a moment, constantly confronting with line-up changes, but always working and maturing in their abilities, with hard work and extreme dedication. Until summer of 2004, when they flew to Örebro, Sweden, to work with the famous producer Jens Bogren on their second effort, in the renowned Fascination Street Studio (Millencolin, Katatonia, Opeth, Soilwork, Pain of Salvation, Deep Insight etc.).
With their debut, RWAV have created a sound that was unique. With the new "Collecting Shells at Lighthouse Hill", they start a brand new beginning. The result is an astonishing mixture of modern rock aggressiveness combined with solid songwriting and strong melodies. RWAV's sound has evolved into a highly unique blend of fresh and melancholic emo-rock, where you might hear the echoes of Dredg, Thursday and Katatonia, as well as The Cure and Depeche Mode in the background. While previously penned in the gothic/metal scene, RWAV is now breaking free with a true definition of their sound: full-blown, dynamic, nervous, mesmerizing, emotionally moving rock. The line-up changes (Gino Palombi on bass and Piero Arioni on drums) not only pushed RWAV creatively, but improved the depth of their sound as well. "I think that when we released "FYD", we were a band with potential, but still trying to focus on their objectives" Francesco explains. "This new record blows the other record away. We've worked really hard on the arrangements, and the album finally shows a confident and genuine band that's starting to become aware of his means".
RWAV's music is a liberating whirlwind of hypnotic melodies and heart stopping time changes going flat out in a burn-up against the clock, among burning vocal harmonies and memorable choirs. "Collecting Shells at Lighthouse Hill" is a stunning movement of art and music that can really mesmerize the listener like few other records in recent memory... RWAV's music is not only able to move its listeners on a musical level, but it raises feelings and emotions that can only be captured and conveyed through sincere music that comes from the beatings of a blazing heart. It's easy to find yourself carried away by their soothing guitars and hushed, smooth vocals. Still abrasive guitar explosions and asymmetrical, nervous rhythmic structures demolish any misleading sense of comfort, leaving the listener out of breath and yet begging for more.
"Collecting Shells at Lighthouse Hill" will see the light on November 2005 in a special edition containing the video of "Friction", and an exclusive multimedia track, full of info, comments, pictures and curiosities about the band.