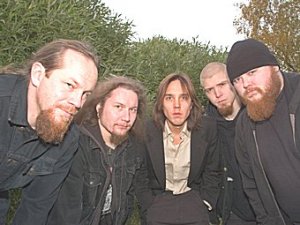 Bassonova written & composed by Jani Lehtosaari.
Arranged & performed by Plan E. Line-up: Heikki Haataja [drums, congas, bongos, vibraslap, tambourine, shakers & chimes], Ilari Kinnunen [5-string lead/rhythm bass], Jani Lehtosaari [4-string rhythm/lead bass & vocals], Markku Leinonen [4-string soft bass], Jaakko Vanhala [keyboards & barchimes].
Guest performances by Antti Haapapuro [thai-gong, thingshas, rainstick, singing bowl & cymbals on 1/2/4/6], Asko Laaninen [backing vocals on 3], Mikko Laurila [bass leads on 6], Matti Salo [clarinet & melodica on 5], Pekka Tervamäki [fretless bass lead on 10].
Recorded, mixed & mastered by Ahti "paskat soundit ei oo taiteen tekemisen edellytys" Kortelainen at Tico Tico Studio, June 2005. Produced by Jani Lehtosaari with technical assistance & wisdom of Ahti "tähän sopis semmonen tarkkaki soitto ihan vitun hyvin" Kortelainen.
Executive producer: My Kingdom Music.
Finland's best kept secret Plan E is a unique and one-of-its-kind non-guitar dark rock band. The group was formed in May 1995 by vocalist/bassist/song writer Jani Lehtosaari.
During the first ten years of being around Plan E has gone through several line-up changes and released bunch of studio recordings. No live performances have ever been done.
Today this five-headed group is signed on the Italian indie record label My Kingdom Music and their 4th studio album "Bassonova" has been released worldwide March 2006.
It's all about the sound! Rhythm is the key! Just add more bass! No compromises!