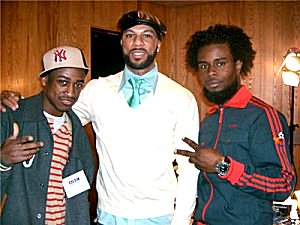 Apart from feeling blessed simply to have a show on national radio, the opportunity to use the BBC's Maida Vale studios to record sessions has been a dream of mine since first hearing John Peel back in the eighties.
The Worldwide show has been going for over 5 years now during which time I've been able to air first plays from artists as diverse as N.E.R.D, Dizzie Rascal, The Streets and MIA alongside the more standard worldwide sounds of the Cinematic Orchestra, Mos Def or Domu. That's the thing about Worldwide - it's really tricky to break down the format - possibly its key to survival actually - somehow a counterpunch to over programmed radio - whatever, as cliched as it sounds, it really is all about the music.
Over the years the show has shifted and changed but basically remained similar in content, stongly influenced by the club scene within which I've played consistently since the mid eighties - it really is a scene that has given the UK a real advantage in terms of hearing new sounds. Live music has also been a big part of this scene - I mean where would The Wag club or Dingwalls have been without murderous live sessions fused within the DJ culture. So to be able to incorporate a live feel into the radio show has been a terrific and in retrospect essential addition.
Which is where this album comes in. I mean after over eighty sessions - the album had to be done, right? So, who to include? All that I can say is that there are at least another 2 volumes of music from Jose Gonzales and Seu Jorge to Build An Ark and Kindred still in the can! In the meantime so many memories are included here. I mean Bjork and Rahzel jamming on a Sunday afternoon with a choir from heaven.The Roots demanding another session with the brilliant sound engineers.Peven Everett and Bilal keeping it simple and Dwele inviting Roy Hargrove into the red clay.The message-board crew being the audience during 'The Audience' from Matthew Herbert. Amp Fiddler charming my mum!...The Heritage Orchestra unable to fit into studios 2, 3 or 4 and ending up in Maida Vale's holy grail, usually reserved for the BBC Symphony Orchestra - Studio 1!...and that Chris Bowden solo - wow!
All the sessions included on this cd were recorded for worldwide except for the Jamie Cullum version of 'Frontin' which was done for the Jo Whiley show to whom I thank for letting us include here - such a great version! Some tracks were actually recorded in the live room at Radio 1- the NERD cut is one of those - so live - you just wouldn't be able to get that from a properly produced studio album - and a big thank you to Pharell for letting us go with such a free vocal. Another amazing artist to work with was Steve Reid who just took my breath away with not only his playing but his attitude to music in general. This is where working with musicians will always beat djs - they've just got more to talk about - more to share - more life! Oh well I suppose I always was just a frustrated musician!
Got to say that one of my favourite tracks on here is the Beth Gibbons 'Romance' tune - she is so underated. I mean Portishead were just amazing and to get one of Beth's vocals inside this mix is very special to me. What i love about these session tracks is how in a world of pre packaged music there are still artists who truly have got original creativity that sets them apart - check the Roots manuva for a whole different approach to rework a tune from his album - pure cocktail hip hop!
Anyways, I hope you enjoy this record and I hope you can feel this record for what it is - a testament that live music will always survive - especially on the worldwide show!
(foto e biografia tratte dal sito ufficiale)