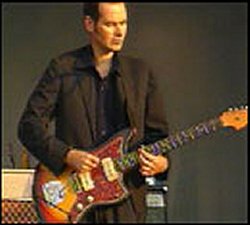 The trickiest thing about a biography is to decide exactly where to begin.
When it comes to someone's life and career, can we point to one event and say, "this is where it all began"? There are dozens of ways to start this particular one.
We could write about that day in 1973 when young John Parish, 14 at the time, saw his first concert ever in Bristol, David Bowie on the Aladdin Sane tour, and decided that this was what he wanted to do (actually, he got to perform himself in the same venue 25 years later, during a PJ Harvey tour).
Or we could tell how John recorded his first EP with new wave band Thieves Like Us in May 1980.
But perhaps the most convenient way to start would be to go back to 1983, in a record store set in Yeovil, Somerset, where a young man named Robert Ellis was working.
(Moore of bio in official website)