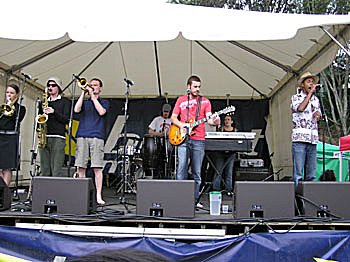 One Million Dollars
OneMillionDollars are an auckland based jazz soul collective with a reputation for tight energetic live shows.
Their sound combines elements of 70s funk, soul and disco with bossa nova, built around the songwriting skills of lead Richie 'mr president'.
With three horns, multipart vocals and occaisonal lyrics in Brazilian Portuguese from Hobbs , this nine piece band is bringing a fresh perspective to the NZ music scene.
Their live highlights include support for Black Eyed Peas, at Vibes on a Summer's Day and as the only live act at the Two Towers Lord of the Rings premiere.
2004 saw the release of their groundbreaking debut album 'energy state' to rave reviews.
The album is a summer jam of bossa nova, upfront funk and soulful smokey jazz.
Lead singer Richie is also working on solo matrial with Manul Bundy