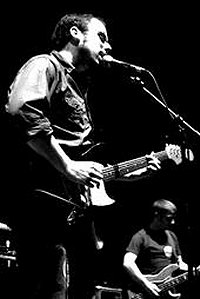 De Rosa are a band well acquainted with change, undergoing a series of transformations and enforced sabbaticals since their inception at Glasgow's School Of Art in the early 2000's. Their genesis has proved much longer and more arduous than the band's architect, Martin John Henry (vocals/guitar), should rationally have expected. Despite the altered line-ups and more time spent in the studio on their debut than most bands dedicate to their 'difficult' third album, De Rosa are now a contented four piece (brothers James and Neil Woodside on bass and drums respectively, with Ross Stewart on keys/guitar/violin) and Mend is at last perfected.
The striking results spring from a very meticulous and studied form of songwriting. "When I was an art student, I wanted the way I created music to be almost the opposite of the way the art school wanted me to create visual art," Henry explains, "I wanted to create music completely intuitively. I think we continue to try and work in this way, but as I get older I have to admit that my interest in more deliberate lyric writing requires more pre-production than I've used in the past… maybe I'm a little less of a punk than I used to be."
De Rosa signed in 2004 to Lanarkshire label Gargleblast (run by Andy Miller, producer of Sons And Daughters, Life Without Buildings, My Latest Novel, Scout Niblett and The Delgados amongst others) and it was following the release of their debut single ('Camera'/'All Saints Day') in July '04 that heads first started to turn. Encouraged by the support of John Peel, Steve Lamacq and the like, De Rosa locked themselves away in Hamilton's Chem19 Studios with Andy Miller for the best part of 2005. The use of Chemikal Underground's celebrated recording studio was to prove auspicious when upon its completion, the Glasgow label rushed to license Mend.
The album is an astonishingly assured debut that flits effortlessly between thundering feedback, abstract rhythmic phrasings and the straightforward approach of traditional folk, all shot through with a lyrical narrative that is honest and inventive. Mend unashamedly references places and events from around Lanarkshire ('New Lanark', 'Cathkin Braes', 'Hattonrigg Pit Disaster') and places them against a musical backdrop that is as sophisticated as it is compelling.
"I try to write with honesty, and for me that is almost impossible to do without talking about your own physical landscape. 'Cathkin Braes' is a bit of commentary about Glasgow, based around the view from the hills south of the city. I think some kind of truth is really important in what we do, whether it's in the lyrics or in the way we play," Henry continues, "I'm always blown away by tight, visceral sounding bands like Joy Division and Gang Of Four," and indeed the influence of rangy punk and post-punk aggression (Sonic Youth, Stooges, Shellac, Television) infused with a twisted sense of melody and straightforward pop structure (Pixies, Talking Heads, Go-Betweens, Red House Painters) is readily apparent in De Rosa.
The band's live presence teems with explosive energy, punctuated by moments of intimate beauty, as recent shows with the likes of Snow Patrol, Duke Spirit, Do Me Bad Things and Scout Niblett will attest.
Mend, as with De Rosa live, makes for a highly addictive and thoroughly invigorating listen.
(Tratta dal sito ufficiale)