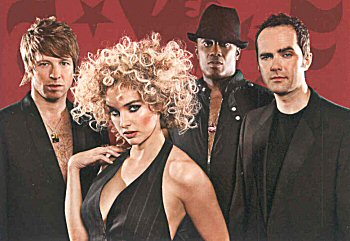 People don't always see the sense in plotting your own, uncharted, course. Yet when the music all around you is heading toward a processed, homogenous, uniformity you know the only way to survive is to just kick out the jams. This has always been the case for the intensely funky Brand New Heavies. Born out of a deep love of classic 1970s grooves, this band of funkateers has always reacted against the grain and now they are back in the saddle after fifteen years of platinum selling success, hungrier than ever for bringing on some new, 21st century, block-rocking grooves. So it should be no surprise, though it might be to some, that just when music seemed to be reaching its most anodyne and stale point for many years; with dance music on its knees and the music industry in a state of flux, that the most radical thing to do right now is plug in and play the music you love; soulful and loud.
Taking a fundamental, back to basics approach to the music that inspired them as teenagers is still the only way to go. With a fat bass line, a killer beat, a sultry vocal and dynamite hooks at every turn the results are nothing short of inspiring. Thus their new album 'allabouthefunk' is the essential, homegrown, 21st century Philly-soul funk record that only The Brand New Heavies could have produced; a new font of musical refreshment springing once more from the heart of London. The Heavies' three original cavaliers of cool; bassist and programmer Andrew Love Levy, guitarist Simon Bartholomew and drummer and keyboardist Jan Kincaid, have now been joined by the fresh vocal talents of 25-year-old of Nicole Russo, taking the band into a new era of music making.
It's one thing to keep playing for fun of playing, but it's entirely another to bow out while the musical fire still burns inside you. Thus The Heavies circa 2004 are hotter than ever, responding to the needs of an audience crying out for some heartfelt, soulful grooves played by great musicians, laying down the funk for real. With every tune on 'allabouthefunk' sounding loose-limbed and completely relaxed, the sign of a band at the peak of their powers, it's a return to the garage band mentality that first helped the young trio of Andrew, Simon and Jan become a serious band in the first place.
The Heavies history is one that saw these three young Ealing-based urbanites unite behind the purpose of emulating their idols James Brown and The Meters, in the only way they knew how; by making records of their own. Playing at numerous early 80s illegal warehouse parties around London as well as at the influential Cat In The Hat Club, Kincaid, Love Levy and Batholomew's inspired move back to the rare grooves coincided nicely with the huge Acid Jazz scene; preempted by the soulful pop power of Soul II Soul, followed by the Young Disciples through to the harder instrumental bands like Snowboy & The Latin Section and James Taylor Quartet. Yet The Brand New Heavies could always blow hot on both fronts as their fifteen Top 20 singles including 'Back To Love', 'Dream On Dreamer', 'Shelter', 'Midnight At The Oasis' and 'Never Stop' testify to not only their funk firepower, but the strong song writing abilities that have always been their trademark.
Their early 90s following was demanding a new level of commitment from The Heavies, their rep spreading through London's reawakening clubland, so a brass section came on board, as did vocalist Jay Ella Ruth. Clubbers jaded with flimsy Acid House tunes, sought out a deeper, more substantial musical fix, thus the band's self-titled debut LP, financed on a measly 8,000 pounds by the Acid Jazz label, made a musical splash with both fans and the music press alike. Such was their impact a US licensing deal via Delicious Vinyl was suddenly in place, but this meant they were now aiming for the bright and shiny US R&B charts. With pressure from Delicious Vinyl, N'dea Davenport became their new vocalist and with the focus squarely on success Stateside much of their debut LP was rerecorded and released as their first 'official' self-titled album in 1992.
The hits at home in Blighty were starting to pile up with both 'Dream Come True' and 'Stay This Way', but it was their third single 'Never Stop' that barged its way into the American R&B charts, matching the achievements of the huge cross-Atlantic success enjoyed a few years previously by Soul II Soul. The timing was perfect. And as America started to wake up to these bold soul brothers and their sassy sister, so the burgeoning daisy-age rap seen began to blossom. Arriving in New York, an initial Brand New Heavies live show had the alt rap aristocracy in attendance including Q-Tip, (A Tribe Called Quest) plus MC Serch (3rd Bass) resulting in the pioneering funk and rap album 'Heavy Rhyme Experience, Vol. 1', that also featured Main Source, Gang Starr, Grand Puba, and the all-conquering Pharcyde. The Brand New Heavies were at the heart of this musical melting pot and the birth of a new era for both funk and rap.
This upward trend continued with "Brother Sister" in 1994, (another platinum selling release for the band), but with a new singer, Siedah Garrett, arriving in time to record 'Shelter' in '97. The end of the millennium approached and so did this prolific era for The Heavies as they gathered all of their success onto one disc 'Trunk Funk: The Best of the Brand New Heavies' which now showcased the phenomenal Carleen Anderson; vocalist for Heavies' main rivals The Young Disciples and daughter of the legendary Vicki Anderson and step-daughter of Bobby Bird, both members of the James Brown Revue since the early sixties. With such deep lineage it was only right that they revamped Anderson's signature tune 'Apparently Nothing' with added bass and brass plus featured promising new songs 'Saturday Nite' and 'Try My Love' among the long list of certified classic cuts.
So a new century dawned and the band's ten-year deal with London records came to an end. Lesser mortals, and musicians, might well have hung up the gloves, tired of the fight, but not The Heavies; this is a band based on friendship and a love of making good music. Jan explained; 'It's not an easy thing to do, but we've always been able to go back to the drawing board, rethink our whole game plan and find another way,' he muses, 'And we've always done something that we believe in.' Thus they found themselves in Andrew's loft space with the bare essentials, two guitars and a computer, and started cooking up some new music. Yet a new catalyst was to spur the band on to a new high: 25-year-old singer Nicole Russo. Hailing from Wembley, her father had sung professionally with no less than Lou Rawls and Quincy Jones, and by the age of four she was playing piano and by the age of eight she was writing and singing her own songs. Such prodigious talent doesn't go unnoticed for long and she was soon singing on sessions aged just 15. Her solo deal arrived after she ensured she would be able write her own material, not be the mouthpiece for some song writing production line. Finally signing with Telstar, the deal soured soon afterwards when both the record failed to match her high expectations and the attempted follow-up with Philly soul producer James Poyser (The Roots, Erykah Badu and Lauryn Hill) hit the rocks when Telstar went into meltdown. Mutual acquaintances suggested she look in on the Brand New Heavies, whom she'd known since her early teens when she got their 'Brother Sister' album and as a 13th birthday present. Knowing they had a lifetime of global success behind them, she was concerned they wouldn't have the same hunger for success that she had; "but they did", Russo explained. "I was so disappointed in the way my album ended up sounding that I was ready to push the boundaries. And these guys were wanting to push further, try new things".
Both The Heavies and Russo were feeling the Philadelphia soul connection and somehow it perfectly reflects the old-school-meets-new-school vibe that has resulted in 'allabouthefunk' being such an emphatic musical statement. Simon traces the quintessential vibe that has helped this resurgent phase; "We started in a bedroom just out of a love of playing music and we've toured and played live ever since. There are not many R&B/funk bands around that play live in the way we do. We love jamming together, performing live. Even the old songs get a new energy " they've changed and evolved along with us." So with Russo's edgy yet sultry soul-powered vocals 'allabouthefunk' plays like the ultimate 21st century block party, full of dirty bass lines, nasty guitar stabs and some huge melodic hooks. Simon continues; "We started out just jamming at warehouse parties through the sound system, and that rawness " the energy you hear on a James Brown record " has always been an important part of what we do. We don't ever want to get away from that too much".
From the opening 'Boogie', (also the first single) with its snake-hipped booty shake, you can almost picture the band shimmying effortlessly into a world of new musical possibilities. The beats are finger-snap tight, with the bass dragging you toward the dance floor, while Russo's slinky moans recall the authentic sassy disco 'n' soul 70s vibe. 'Need Some More' declares its manifesto of rebirth in no uncertain terms, highlighting the maze of music industry highs and lows, nailing the point that as long as you're hungry for more "keep it coming". The thunderous space rock of 'Waste My Time' is pure Russo attitude, setting up the possibility that this young chanteuse could take on all comers in today's music scene, should they stand in her way. 'Keep On Shining' is pure low-down, Bootsy Collins bass and slippery funk-guitar; a sunny sentiment of optimism further lifts the mood.
The 70s rock and soul grooves keep coming on 'What Do You Take Me For' with Russo bringing down the house with a mature message of self respect, hooked up with a slamming guitar line. 'Surrender' lets a Latin horn part wash over the taught tag line, while Russo unleashes the kind of seductive diva performance she's capable of delivering. 'Many Rivers To Cross' is the slow-mo ballad that once again features an immaculate groove from the classy BNH trio, allowing Russo to let her emotional undercurrents to bubble to the surface, the results a bold and beautiful new version of a great song. Strutting their funky stuff has never been a problem and 'How Do You Think' is up there with countless other Heavies' floor fillers, as sleek and long as a high-walled stretch limo. The electro-funk beats and Love Levy's consistently badass bass takes over on 'Every Time We Turn It Up' as the ghost of P-Funk past enters to make some properly nasty moves. Closing with another new mantra 'How We Do This', a defiant parting shot from Russo's hook-laden larynx, echoes the Black Eyed Peas resurgent use of the old meets new soul sound; this is a call to arms to never give up. A brand new band with the same heavy soul beats; it's like The Brand New Heavies just got back in time to make some more music history. So bring it on.
Mike Flynn
TBNH Biography