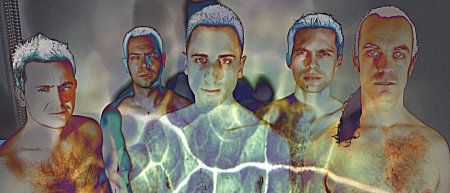 Name: Michele Gozzi (bass guitar)
Born: 28.11.1977, Cento (FE), Italy
Michele started to play electric-bass at the age of sixteen, in a band with some other mates (among the members figured also Claudio Pilati). Afterwards he took part in lot of different bands playing a huge range of music styles: Italian rock covers (Vasco Rossi, Litfiba), rock/grunge (Faith No More, RHCP, Nirvana, Pearl Jam, Stone Temple Pilots), music of the 60s and 70s (Led Zeppelin, David Bowie, Police, Smith) and some new stuff in the wake of Radiohead, Blur, Jeff Buckley. In the recent years he focused more and more into electronic music, listening to bands/musicians such as Bjork, Massive Attack, Portishead. It was on the basis of this interest in the research of dark and hypnotic sonorities that, at the end of 1999, Michele joined Act Noir.
Name: Claudio Pilati (drum)
Born: 30/01/1977, Cento (FE), Italy
Since his childhood Claudio has always been interested in music playing, particularly for drums and percussions. Claudio grew up listening to the "big names" of Italian music (Mingardi, Morandi, De Gregori, Vasco Rossi, Battisti….), but also David Bowie, Beatles, Bee Gees, Elton John, Barry White…. basically all of his father's favourite music! Influenced by his cousin, during his teen-age years, Claudio discovered hard-rock music, listening to bands such as Led Zeppelin, Deep Purple and also the more "rock-trendy" bands of the 90s: Metallica, Iron Maiden, Guns n' Roses, AC/DC, Aerosmith. At the age of sixteen Claudio joined the citizen's band of the town in order to learn some music rudiments. Considering his commitment to learn more about music he quits the citizen's band and joined a (serious) music school where, thanks to the experience of his teacher (Lele Barbieri), he learned the basics of drum playing. For three years Claudio had drum lessons, learning to play very different music styles such as: fusion, jazz and funk. For a couple of years Claudio played together with some other friends in a cover band. Meantime Claudio got in touch with a fellow citizen named Sergio, who influenced him with ambient and electronic music (Massive Attack, Depeche Mode, Portishead…). After some time he became a member of his project Act Noir.
Name: Sergio Calzoni (elettronics)
Born: 23.05.1976, Cento (FE), Italy
Sergio grew up in the 80s listening to bands such as Freur and Duran Duran. His father introduced him to classical music (Rossini, Strauss), science fiction (above all "2001 a Space Odyssey") and he taught him how to listen music not just as pure entertainment. Under the influence of his grandfather instead he started studying music, learning to play the clarinet and the accordion. Anyway after some years tired of playing waltz, polka & mazurka music-styles, he got brainwashed by Depeche Mode and Claudio Simonetti… therefore synthesizers became the must-have instruments to play. As birthday present his parents bought him the first keyboard: a very crappy GEM VS2. At the age of fourteen he joined the rock-band of his "cool" village (Sant'Agostino) but, except having a lot of fun with the other members, he understood that it was not the way to make music he was looking for… Therefore he quit Baghdad Subways (this was the name of the band) and he started exploring the many possibilities offered by the use of the sequencer. After a while he changed keyboard with a more powerful one (a less crappy GEM WX2!), by means of it he started composing his own tunes. Soon he managed to complete his first demo-tape, and this was the starting point of the Alma Mater project. The rest is history… (see chronology section of the site).
Name: Stefano Nieri (guitars)
Born: 9.10.1974, Persiceto (BO), Italy
Stefano grew up influenced by the music listened by her sister (Mission, Duran Duran, Cure, Cult, Simple Minds) and many other 80s bands. During his teenage years he particularly focused his interest on Depeche Mode (he retains himself as a great fan) and electronic music in general. In the 90s he got involved in the funk-rock-grunge movement (the so called "crossover"). In this period he started playing the acoustic guitar of the father (a folk musician) and he found out how funny was to emulate the riffs of songs such as "nothing else matter" - Metallica, or "under the bridge" - Red Hot Chili Peppers. Seriously committed he began taking guitar lessons. Anyway after some years tired just to practice with boring technical exercises, he started looking for musicians to form a rock band. A day, in his favourite CD-shop, he got attracted by an ad of a keyboard player who was looking for a guitarist to experiment with different music styles. In this way Stefano knew Sergio in late autumn of 1997. He was very happy to be able finally to compose new tunes and not just perform covers. Moreover he was very impressed by the dedication and by the strong "faith" of Sergio in his music, and by the possibility to experiment combining different music styles.
Name: Nicholas Hill (vocals)
Born: 1.04.1972, Copenhagen
Nicholas composed his first song at the age of two and he assisted at his first concert "Le Sacre du Printemps" (I. Stravinsky) at the same age. In 1976 he moved with his parents in Israel and after have climbed the Sinai mountain he started to listen... Abba! At the age of nine he started to play drums and at his 10th birthday he got as present "The Great Rockn'Roll Swindle" (Sex Pistol). At the same age Nicholas started seriously playing guitar and writing songs. At thirteen years old a new family adopted him, but after two months he escaped because they wanted to cut his dread-locks. He then moved to live with a hippies community where he learned to play acid-psychedelic rock. In the same year he went to his first Roskilde Festival where he got totally brainwashed watching Ramones, Cure, Clash and Nina Hagen… during the same summer he also experienced Miles Davis live in Copenhagen. Since then Nicholas played something like 200 concerts and composed around 200 songs and his musical contribution figures in lot of bands in the Copenhagen area. He travelled in 22 countries and lived for a while in Cuba and on the Canary Island. In the late autumn of 2002 by means of an ad on the local newspaper "Den Blå Avis", Nicholas had the opportunity to meet Sergio and join his project Act Noir.